GISTEC receives 3- GIS Business Partner of the Year 2011 Awards
GISTEC Receives 3-GIS Business Partner of the Year 2011 Award
Sharjah – July 30, 2010 – 3-GIS congratulates business partner GISTEC for receiving the 2011 3-GIS Business Partner of the Year Award. The award recognizes outstanding partner achievements in sales, product development and advancing 3-GIS innovative thin-client web-based solutions into utilities, telecom, and local government markets. The award was presented on July 12 at the 2011 ESRI International User Conference in San Diego, California
The 3-GIS Business Partner of the Year award is given to the partner who shows high level of commitment and support to achieve mutual goals in favor of a satisfied customer. 3-GIS distinguishes GISTEC's professionalism in assisting new partners and handling their penetration in new markets like the UAE.
"3-GIS Technology is unique and meets many aspirations for our clients in the UAE. We are glad to work with 3-GIS team and offer their products to our client's base." said Saed Abu Helwa, GISTEC Technical Director. "This award reinforces our commitment to continually improving our partnership with 3-GIS towards offering world-class utility and telecom solutions" he added.
The cooperation with 3-GIS as a distributor of its suite of products in the UAE has given GISTEC clients a cutting edge applications including utility, telecommunication, safety & security, and local governments users.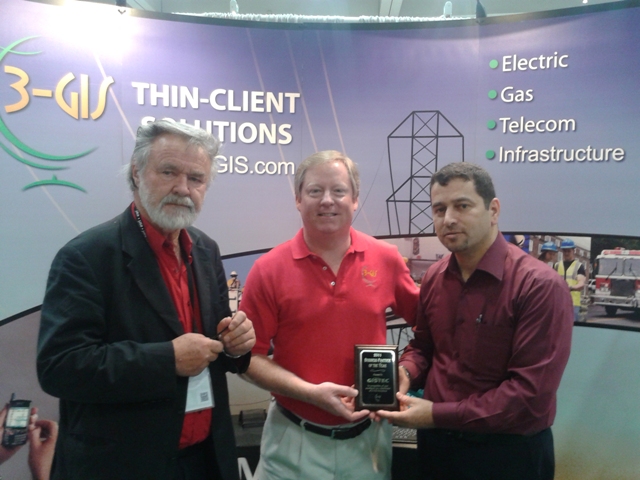 About GISTEC
GISTEC is a professional GIS services company specializing in the development of intelligent, enterprise wide geospatial solutions for clients in a variety of disciplines and industries. Our services include GIS consulting, database services, geographic imaging, applications development, server and web GIS, and training. Apart from offering leading GIS software from Esri, we also support field and smart phone solutions from 3-GIS, Geocortex Web GIS solutions from Latitude Geographics, utility GIS solutions from AED-SICAD, ETL software from Safe Software, telecom GIS products from Telcordia, and remote sensing and image processing solutions from PCI Geomatics, among others. GISTEC does not just sell these software products, but develops solutions to meet the unique business requirements of its customers. For more information or for any questions about GIS solutions and services, please email us at info@gistec.com.
About 3-GIS
3-GIS delivers innovative thin-client web-based solutions to companies worldwide in the Utilities, Telecommunications and Emergency Management markets. 3-GIS offers Express Solution, an ArcGIS Server-based suite of thin-client asset management products and Command Center an Esri-enabled Operational Picture and Situational Awareness solution. 3-GIS proudly received the 2011 Esri Partner's Choice Award & the 2011 Esri Private Web Application Award. More and more companies are finding 3-GIS's cost effective powerful applications simple to deploy and easy to use. For more information visit www.3-GIS.com.
For more information about GISTEC partner network please contact Issam Attalah (Issam.attalah@gistec.com)